What are the professional strengths of adults with autism?
The world is rapidly evolving with new digital tools, new data, new technology and new businesses processes. These innovations give organizations new ways to reach and engage customers and partners. But for every innovation with major advantages, there are also downsides. As companies use more and more data, there is an exponential increase in operational complexity and the need for rigorous, repeatable processes to deliver on the promise of these innovations.
Fortunately, the unique professional strengths of adults with autism are aligned with many challenges corporations need to address in maximizing the advantages made possible by the innovations sweeping the economy today.
In this brief article, we will discuss these strengths and how a partnership with AutonomyWorks can solve some of these challenges. The strengths we will discuss in this article are:
Sustained focus
Process discipline
Quality fixation
Pursuit of mastery
Analytical intensity
Quick Background on Autism Spectrum Disorder
Autism is the fastest growing disability in the United States. One in 59 children will be diagnosed with autism before they turn 10. A half million Americans with autism will enter the workforce in the next decade. Most individuals and families are now touched by and/or know someone with autism. Undoubtedly, these personal connections will increase over the next decade.
As we talk about people with autism, it is important to understand that autism is a spectrum. There are a wide range of different capabilities along the spectrum. A significant portion of these individuals have talents well suited for the business world.
AutonomyWorks was founded to create jobs for people with autism. We leverage the talents of these individuals -- combined with customized technology, training processes, and management systems -- in supporting companies.
Five Areas of Strength
1. Sustained Focus
Most organizations rely on entry-level staff to execute core operational tasks – from quality assurance to reporting and data management. Often, new staff are expected to perform these tasks all day, every day. They start strong but within months, just as they are gaining experience, the typical employee becomes bored. They struggle to maintain quality and productivity. High employee turnover is often the result.
In contrast, professionals with autism prefer to work on the same tasks repeatedly. They do not get bored. They work as fast and accurately on the last tasks of the day as they did on the first tasks of the day. The alignment between work and talent comes through in AutonomyWorks' turnover rate. Less than 10% of Associates leave each year.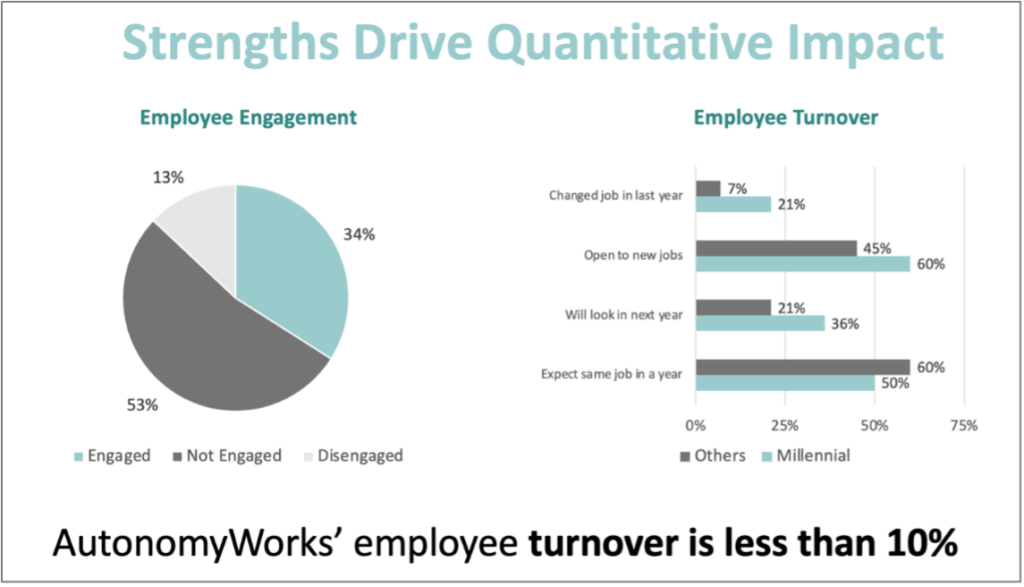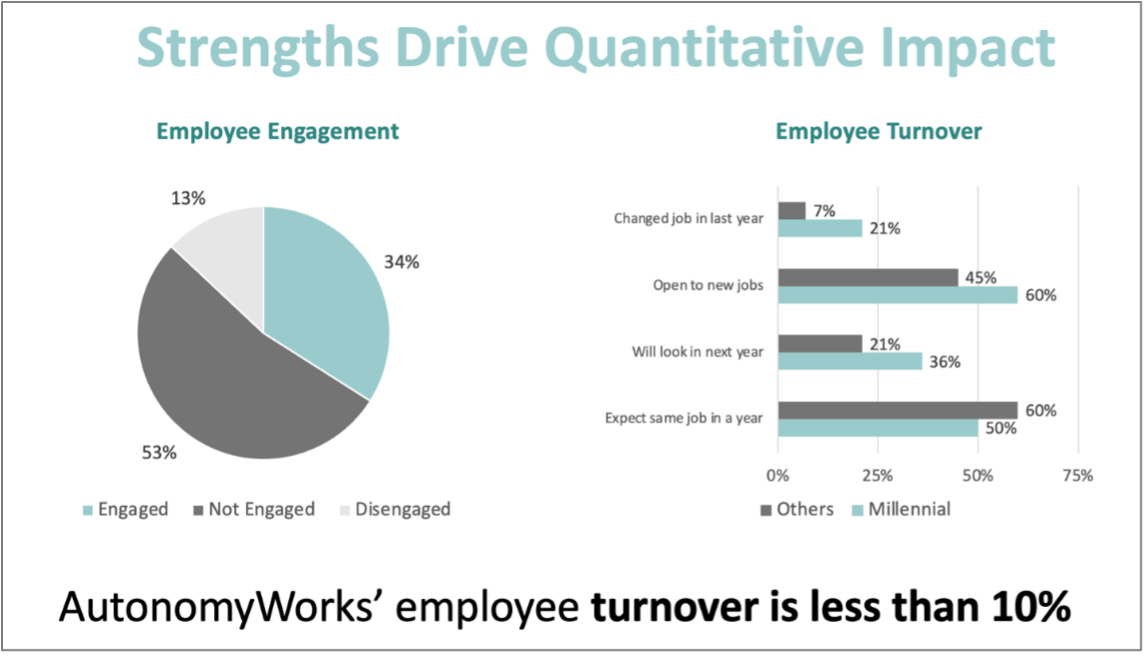 2. Process Discipline
AutonomyWorks typically operates in the following process areas:
These processes share many characteristics. They require consistent execution. Best practices can be defined. Special situations require customized handling. They often include interactions with proprietary systems or other technologies. Every person in the organization should be able to deliver these processes the same way every time.
However, in most companies, job knowledge passes from person to person informally. An experienced team member demonstrates a task for the new person a few times and then leaves them on their own. When the new worker gets stuck or confused, they interrupt a coworker – or just guess on the next step. As this process is repeated over and over, the process mutates creating multiple versions, approaches, and tools. It becomes impossible to predict the outcome from each execution.
People with autism excel at the structure and consistency required for reliable process execution. They complete every step in every task every time. They learn to identify and address a wide range of issues and exceptions. Turnover is low, so the expertise is retained without frequent training and recruiting. At AutonomyWorks, many of our clients have seen reductions in errors of 90% or more.
3. Quality Fixation
People with autism are detail oriented. This ability to notice details enables them to identify errors or mistakes in anything. For example, that could be:
Looking at a piece of advertising creative
Validating a huge data file
Reviewing a website
These professionals can understand the details and how the details should work together. They can see when the details are wrong in vast and repetitive streams. They identify issues that most professionals, especially young professionals, will not see.
Adults with autism have a real passion, bordering on obsession, with things being correct. Not only are they able to identify errors and issues, but it is also very important for them that the issues are corrected. When things are not accurate it causes people with autism anxiety. AutonomyWorks has developed a system and process that taps into this strength so that anxiety is removed and the team's passion for accuracy and detail is rewarded.
One of our core services is quality assurance. On average, AutonomyWorks clients find that our BPO teams identify three times the number of errors found by internal teams when reviewing the same content and/or data.
4. Pursuit of Mastery
Today, most entry level staff seek a variety of experiences where they can build their skills and resume. They prefer superficial exposure to many different tasks over gaining extensive experience and knowledge in any one task. If they feel they can gain new experiences in a different role or with a different company, they will not hesitate to switch. Only about 30% of new college graduates spend more than a year in their first job.
Professionals with autism prefer to build deep expertise and knowledge of limited set of tasks. They would rather master a small set of tasks than experiment with many different tasks. Knowledge and experience are retained on tasks for years improving both quality and productivity. At AutonomyWorks, one of our Associates has been performing the same set of tasks for more than eight years. It is still his favorite client and his preferred work.
5. Analytical Intensity
Today's businesses create an immense amount of data. More and more decisions rely on data and analysis – often from multiple parts of the organization. Staff must be comfortable with numbers, spreadsheets, and related tools. Too often, entry level hires lack the basics of analytical problem solving.
AutonomyWorks employees enjoy math and have excellent analytical skills. Because of their attention to detail and drive for accuracy, they can recognize patterns and outliers a typical employee would not see. Most of our employees also love technology. And the same attention to detail and dedication to mastery gives them the aptitude to learn new software platforms quickly. Because they have an intuitive sense for rules and processes, they understand the nuances of new software products and easily adapt to platforms and platform upgrades.
Recruiting Talent on Autism Spectrum
In this 60 Minutes segment Andersen Cooper explores how and why more companies are discovering the unique skills and potential people with autism offer. The segment includes interviews with several AutonomyWorks employees and Founder David Friedman